CA Hunger Strike focuses attention on design of solitary confinement
Raphael Sperry
-
Fri Jul 19, 2013
@ 01:37PM
This has been a big day (and week) for ADPSR in the media. The massive hunger strike in California prisons that began 12 days ago has finally brought mainstream media attention to the human rights abuses of solitary confinement in California prisons. The aspect of how and why the buildings that house that abuse were designed, and if we should refuse to build more, is an angle on the story that many journalists and commentators are finding compelling. Here are some of our recent mentions:
The Guardian (UK) (see the end of the article): California prison guards retaliating against hunger-strikers, lawyers say 7/18/2013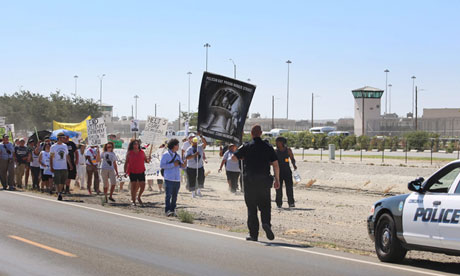 The Huffington Post (an original piece all about our campaign): Prison Design and Its Consequences: The Architect's Dilemma 7/18/2013
Daily GOOD: Why a Prison Like Pelican Bay Should Never Be Designed Again 7/18/2013
Blog post for ACLU: "There Are Some Buildings that Never Should Have Been Built," 7/12/13; reposted by Commondreams.org 7/13/13.
Our petition urging AIA to ban the design of spaces intended for prolonged soiltary confinement (along with execution chambers) is now at 850 signers, with about 100 of those having signed in just the past week.
Of course our goal with the campaign is two-fold: to get AIA to make the improvement to its Ethics Code, and to educate architects and the broader public about the human rights problems with the death penalty and solitary confinement. This week we are making good progress on both counts!